Twelve year old Ricky Davis is the son of a garment cutter and part-time bookie. His mother, Pearl, is a beautiful woman who is passionate in both her love and hate for the man whom she is married to. Things begin to get very dangerous for the family because Ricky's father owes money to the mob and they are bent on collecting it, even to the point of taking Pearl as collateral. Though Ricky is supposed to be practicing for his bar mitzvah and spending time with the girl he fancies, he's more concerned with making things right for his family. The grandmother who lives with him also wants to make things right, but each of them has their own way of doing things. Being a youth in Brooklyn during these times is no picnic, but Ricky seems to have a way of doing things that not only gives him a wealth of experience but also puts him in the midst of some shady characters and unforgiving bullies. As Ricky goes about his life trying to help his parents, he is unshielded from their loud arguments and frequent fights. In this coming of age tale, Goldstein shows us the darkness and the light in Ricky's monumental struggle for his family's honor and for his own freedom from a family that both emboldens and suffocates him.
I had expected this book to be very light and frothy, but in essence, this was a very gritty and dark tale. Though Goldstein takes care to thread humor into his story, the book was fiercely gripping and had me very anxious to discover the family's fate. There was a lot about this book that surprised me, and in its own way, I believe that the book felt and read like a memoir, yet it was billed as a fiction release.
Ricky was a character that was impossible not to love. He wasn't a tough guy or a punk, but a boy who was experiencing life as it was and who made the best out of bad situations. He was both amiable and kind and had a penchant for trying to fix problems that were not his own. Most of the time, his help wasn't helpful at all. I truly cared about him, and through his eyes, I could see the mother and grandmother he adored and the father that seemed so staunchly mystifying to him. Here was a child that wanted to be a man, yet could not stop thinking like a child.
I also thought that the relationship between Ricky's parents was like a battlefield, with each side mounting attacks upon the other and taking casualties. I didn't necessarily like Pearl but I could understand where she was coming from and the idea that she held about putting her family first. She was a proud woman but not socially or financially advanced. This often left a gap between who she was and who she wanted to be. At times, I believe that she put immense pressure on her only son, and it was interesting to see that Ricky could also see this.
While Ricky's mother was a rather easy character to relate to, his father was not. Goldstein was adept at making the reader feel the distance between Ricky and his father, as well as his distance from the reader. His way of coming up with cockamamie schemes to bring wealth to his family and pay off the mobsters made me rather angry, and I took umbrage for Ricky's sake that these schemes never paid off. I began to see that life was a series of games of chance to this man, and that he may have been incapable of ever really relating to anyone at all. During a pivotal scene in the book, he begins to share his feelings with Ricky, but this too felt distancing and confusingly rough.
While I didn't expect that this book would be so dark and sometimes brooding, I did fully appreciate the depth and breadth of character scope that Goldstein plied in his story, and I felt very close to some of the characters by the end of the book. The author's skill in evoking place was also very exciting and made me feel as if I was there, looking in through a window to the past. This was a very thrilling read and one that will have a large impact on its audience. Very intriguing and well executed.
---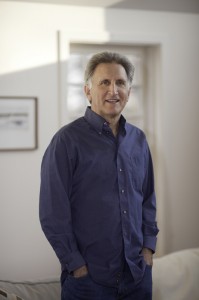 From the Author

In my early twenties I was selected as a Bread Loaf Fellow and had my nonfiction book, Becoming: An American Odyssey published by Saturday Review Press. However, in order to make a living while writing I worked at many diverse jobs: tree planter and assistant librarian in Oregon, organic orange and olive farmer in California, school bus driver, Zamboni driver, editor, stock broker, power transformer tube winder and tennis pro in the Berkshires, and custom builder in the Boston area. I'm slowly transitioning out of construction and becoming a full-time writer. I play competitive table tennis three times a week, mentor a ten-year old boy every other week, and take care of my grandson one day a week. He fills that day with joy.

I grew up in a world that no longer exists: The Bronx 1947-1960. The Bookie's Son, based on my childhood, was the story I wanted to tell. I have been writing The Bookie's Son on and off for forty years.
---
A warm thanks to TLC Book Tours for providing this book for me to read and review. Please continue to follow the tour by visiting these other blogs:



| | |
| --- | --- |
| Tuesday, September 4th: | Lit and Life |
| Wednesday, September 5th: | A Patchwork of Books |
| Thursday, September 6th: | Man of La Book |
| Wednesday, September 12th: | Peeking Between the Pages |
| Thursday, September 13th: | The Perks of Being a JAP |
| Friday, September 14th: | House of the Seven Tails |
| Monday, September 17th: | Broken Teepee |
| Tuesday, September 18th: | Life in Review |
| Wednesday, September 19th: | Unabridged Chick |
| Thursday, September 20th: | Two Heads Together |
| Friday, September 21st: | Raging Bibliomania |
| Monday, September 24th: | Fiction Addict |
| Tuesday, September 25th: | WV Stitcher |
| Wednesday, September 26th: | I Am A Reader, Not A Writer (Author Q&A) |
| Thursday, September 27th: | Bagels, Books and Schmooze |
| Thursday, September 27th: | Between the Covers |
| Friday, September 28th: | Mom in Love with Fiction |
---
This book was provided as a complimentary review copy.