In this tale of hope mirrored with sadness, a young woman named Xenia, raised with impeccable standards in a family of lesser Russian nobles, carves her own strange path through life and death. When Xenia is just a young girl, she falls desperately in love with Andrei, a young singer in the Russian court. Born with the gift of seeing beyond the constraints of this world, Xenia is not your typical Russian woman. When it's discovered that Andrei returns Xenia's affections, the two are married and live a life of indisputable ardor. As their love blossoms, tragedy strikes the couple and threatens to tear them apart. Before either can recover, Xenia has a frightening prediction that will leave her shattered forever. Though this prediction actually affects someone else, Xenia's gift for telling the future brings her only pain and sorrow. When her life changes drastically, Xenia also drastically changes, and becomes like a wisp of smoke in the wind, slowly giving all her possessions to the beggars in the street and descending into a frightening madness that nothing can stop. As the years drift by in a painful and unstoppable progression, Xenia becomes a famed mystic among the residents of Petersburg: a seer of unimaginable power. Her story, both deeply mystical and penetratingly sad, is told from the point of view of her beloved cousin, Dasha, a woman with her own passions and dreams who has been by Xenia's side since childhood.
It wasn't until I read this book that I discovered that this was a fictional tale based upon the life of a very famous Russian saint, Xenia of Petersburg. Debra Dean writes convincingly of a woman torn apart by grief, and yet spectacularly awe-inspiring in her ability to foretell future events and bring aid to the poor. One of the things I really liked was that it was told as a fictional tale, without the use of magical realism. While I do enjoy a well crafted story that features magical realism, I feel that this book would have suffered had this effect been included.
The story of Xenia is really a very sad one. It was clear that even as a child, she struggled with visions that she attributed to God and that all came frighteningly true. As she ages, she can see into her own future, and there's nothing that she can do to prevent what will happen in her life. She does the miraculous but pays for it time and time again. This element of the story wasn't overtly centered though, so Dean was also able to share the story of Dasha and her life in this tale. For many years, Xenia and Dasha struggled to find their places, both with each other and with the wider world around them.
I could wholeheartedly relate to Dasha in this tale. Her love for Xenia was overwhelming, and she gave up almost all her future prospects to care for her cousin, both before and after her tragedies. Dasha was just as selfless as Xenia was, but she was still concerned with the necessities of life, whereas Xenia strove to free herself from all physical encumbrances. This became a sticking point between the two, with Dasha becoming convinced that Xenia was mad. In her secret heart, she knew this wasn't true, but Xenia's startling actions produced a great anxiety in her, and she didn't know how they would survive if Xenia continued on her path.
When Dasha's influence over Xenia's life waned, Xenia went on to become a hero to the people of Russia and a beloved figure who was a gifted seer and who aided the helpless. For years, Dasha struggled with this, and tried repeatedly to bring her home once again. Xenia was beyond the borders of what Dasha could handle, and wanted to live life on her own terms. It was interesting to see the fixed impressions of Dasha change towards her beloved cousin, and for her to accept privately what everyone else already did.
If you're a fan of mysticism in any way, I would recommend this book to you. Lovers of historical fiction and family sagas will also enjoy this unique look into the famed life of a woman who could be pinned down with no words or actions. While this book is not religious, it is deeply spiritual, and was both engrossing and in some ways fantastical. Though this was a short read, it was rather weighty on matters both practical and spiritual. Recommended.
---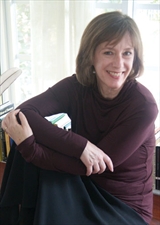 About the Author

Debra Dean's bestselling debut novel, The Madonnas of Leningrad was a New York Times Editors' Choice, a #1 Booksense Pick, a Booklist Top Ten Novel, and an American Library Association Notable Book of the Year. It has been published in twenty languages. Her collection of short stories,Confessions of a Falling Woman, won the Paterson Fiction Prize and a Florida Book Award.

Her new novel, The Mirrored World, will be released August 2012.

A native of Seattle, she lives in Miami and teaches at Florida International University.

Connect with Debra on Facebook.
---
A warm thanks to TLC Book Tours for providing this book for me to read and review. Please continue to follow the tour by visiting these other blogs:



| | |
| --- | --- |
| Tuesday, August 28th: | Historical Tapestry - "Why I Love …" Guest Post |
| Wednesday, August 29th: | Reflections of a Bookaholic |
| Thursday, August 30th: | Unabridged Chick |
| Monday, September 3rd: | Lit and Life |
| Wednesday, September 5th: | Diary of an Eccentric |
| Thursday, September 6th: | Booktalk & More |
| Monday, September 10th: | The Book Garden |
| Wednesday, September 12th: | Chaotic Compendiums |
| Thursday, September 13th: | Man of La Book |
| Thursday, September 13th: | No More Grumpy Bookseller |
| Monday, September 17th: | BookNAround |
| Wednesday, September 19th: | A Library of My Own |
| Monday, September 24th: | Broken Teepee |
| Tuesday, September 25th: | West Metro Mommy |
| Wednesday, September 26th: | Peeking Between the Pages |
| Thursday, September 27th: | Raging Bibliomania |
| Friday, October 12th: | The Written World |
| TBD: | Twisting the Lens |
---
This book was provided as a complimentary review copy.