Pen Calloway has just received an email that will change her life. Six years have passed since her two closest friends decided that it would be best for the threesome to split apart and lead separate lives. Now Pen is alone, living with a young daughter, the product of an affair that went south. When Pen opens her inbox and finds an urgent message from her old friend Cat, she quickly decides that she must attend her ten-year high school reunion and meet Cat there. What Pen discovers when she arrives is that Will, the last piece of that triangular friendship, also got an email from Cat. But things are not what they seem, and when Will and Pen begin an earnest search for the woman who sent the email, they must team up with a man whom they both have negative feelings for while also realizing that there are some unresolved feelings between each other as well. The journey they take is both physical, mental and metaphorical, and along the way, each of them will come to see how life can rip people apart but can also glue them back together again. As Pen and Will discover, some things cannot be changed but others cannot be stopped. In this novel of searching and discovery, de los Santos takes her readers on a journey through the narrow passages of the heart—the place where things fall apart, and fall back together again.
This was my first time reading a book by de los Santos. Though I've heard many rave over her talents as an author, including Sandy and Heather, I've not gotten the chance to read any of her work before now. Most reviewers have decided that this is not her strongest book, and my sentiments on it lead me to believe that if de los Santos can write better than this, she must indeed be amazing. I'm looking forward to exploring more of her work in the future.
De los Santos has a great grasp of character. Though it took me awhile to warm up to Pen and Will, and though I thought Cat was extremely selfish, I eventually felt a lot of attachment to the first two. They had an easy relationship fit, kind of like putting on your most comfortable jeans. They had a huge psychic bond, and though this bothered others in the novel, it made me realize that they were made for each other. Of course, it wasn't that easy because of their history, but overall, I felt that these were two people who really *got* one another. There were levels of dysfunction surrounding them, but what remained pure were their intentions towards each other and Cat.
Cat was the wildcard in this situation. She never really felt fleshed out to me, and despite the fact that Will and Pen loved her so much, she seemed both manipulative and a little cold. I know that I wouldn't have gone to the ends of the earth to track her down, that's for sure, and I just didn't buy into the fact that Pen and Will had been so connected to her. She seemed like a grown-up child, complete with tantrums and very vicious behavior towards her husband—who I frankly thought was too good for her, though he was sort of a schlub. I found her to be a bit repulsive, and wondered why so many people cared so deeply for her when she seemed to care for no one at all but herself.
This is a book that centers around relationships: the kinds we hope and dream of, and the kinds that we overlook. De los Santos has a clear grasp of the myriad of relationships that people can have with each other and the struggles they will go through to maintain those relationships. Like children, Pen and Will avoided the obvious, and this set them up for a lot of strife and a few heart-wrenching moments. In the end, what is lost has been found, but there are no easy answers for the elusive Cat. This didn't really bother me because she felt like an extemporaneous character and really brought out negative feelings from me.
If you're in search of a story of journeys taken and difficult paths that are overcome, this is a book you will want to read. Though all the characters aren't as loveable as one would hope, I think de los Santos gives her readers a lot of warmth and emotion in the characters that she chooses to focus on in this book. As I said before, I'll be reading more from this author. Her gentle story had a lot of bite, and it reached me in a way that not many books do. Recommended.
---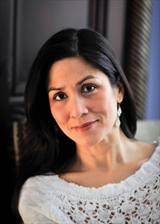 About the Author

Marisa de los Santos is a New York Times bestselling author and an award-winning poet with a Ph.D. in literature and creative writing. She lives in Delaware with her husband, David Teague, and their son and daughter.

Facebook
---
A warm thanks to TLC Book Tours for providing this book for me to read and review. Please continue to follow the tour by visiting these other blogs:



| | |
| --- | --- |
| Tuesday, October 2nd: | Reflections of a Bookaholic |
| Wednesday, October 3rd: | Reading Lark |
| Thursday, October 4th: | girilichef |
| Friday, October 5th: | The Adventures of an Intrepid Reader |
| Monday, October 8th: | A Reader of Fictions |
| Tuesday, October 9th: | A Patchwork of Books |
| Wednesday, October 10th: | No More Grumpy Bookseller |
| Thursday, October 11th: | The Feminist Texican [Reads] |
| Friday, October 12th: | Book Spark |
| Monday, October 15th: | Books and Movies |
| Tuesday, October 16th: | Kritters Ramblings |
| Thursday, October 18th: | Between the Covers |
| Monday, October 22nd: | Silver & Grace |
| Wednesday, October 24th: | Book Hooked Blog |
| Thursday, October 25th: | My Bookshelf |
| Friday, October 26th: | Iwriteinbooks's blog |
| Monday, October 29th: | Lit and Life |
| Tuesday, October 30th: | The Book Bag |
| Monday, November 5th: | Raging Bibliomania |
| TBD: | Book Journey |
---
This book was provided as a complimentary review copy.