Life is not going well for bad boy Billy Keyhoe. He's drunk more often than not, has a violent temper that he uses as an excuse to rain down physical abuse on his girlfriend, and he thinks that he can take whatever he wants, without consequences. After one particularly nasty night, Billy's anger leads to a severe beating for his girlfriend, Billy just wants to split town before the girl's family comes a'calling. But the problems that Billy faces when he tries to steal from the local gas station will have a lot more repercussions than he ever thought possible. Now Billy is on his own, driving alone through the deserted highways of Texas, with his booze and gas running out, and only a little over twenty dollars to his name. When he reaches the crossroads that will lead out of town, Billy is surprised to find a sweet and fresh faced young girl hitching rides in the middle of nowhere. Since Billy operates as if he is God's gift to women, there will be no doubt he will stop for the girl, who calls herself Feather. But Feather is not what she appears to be, and from the first moment that she enters Billy's car, she is a rather tempting, but seriously taunting woman. As Billy and Feather move towards Savannah, Feather continues to poke and prod at Billy's vulnerabilities, and for some reason, he continues to let her. But when her story finally comes out, it leads Billy to a discovery that will rob him of the essence of his self confidence, and fill him with dread. For Billy and Feather are two of a kind, and they are headed down a road that is difficult to imagine, and even harder to deal with. In this short work of gothic noir, Billy Keyhoe, a man forever with a plan, comes up empty...at just the wrong moment.
I don't often read novellas, and I can't think of any reason why they have escaped my attention for so long. In fact, I think this is my first attempt at reviewing a novella, and I must conclude that I liked the format a lot more than I thought I would, despite some misgivings I had with the book. It was a story that was almost predictable, but not quite. It didn't bother me that I had an inkling of what was going on before the end, but the author did a great job of keeping his story all tucked together until those final few moments, when things went in a different direction than I had expected. This is not to say that there weren't some drawbacks to the book that I will soon explain.
There is no doubt that Billy is the epitome of the hard drinking and hard loving man. Though he abuses his girlfriend, he feels no shame or regret, only the need to escape before his ass is handed to him. In Billy's mind, his girlfriend has gotten some of the confidence back that he has worked so hard to destroy, and it angers him fiercely. Her situation is changing, and she is becoming more courageous, which burns Billy's anger into a flame. After a brutal beating, Billy thinks that he will just jump out of harm's way for a few days, but it's clear that the news is out when he tries to rob the gas station, and is accosted by a threat he never saw coming. This sends Billy into a panic, and as he drives away, the fear he feels is dissipated by the large amounts of alcohol he is swilling while driving those dusty roads.
When Billy sees Feather on the side of the road, he is almost aghast at his luck. She is young and more beautiful than any girl he has ever seen, and he wonders why it is that he is so lucky to have crossed paths with her. Feather for the most part is annoying; like a little gnat in your ear, she is always buzzing away annoyingly, trying to get a rise out of Billy. For once, the man keeps his temper, but only by a slim margin. I didn't really enjoy the sections between the hitchhiking Feather and Billy because of the heavy southern dialect that was used to convey their conversations. It took away some of the intensity of the story, and it broke into my consciousness while reading in an unpleasant way. Almost all of her dialogue ended with the word "hey", even when she wasn't asking a question. This made her seem very uneducated and backwards, and it bothered me immensely.
While Billy and Feather ride down the roads, Feather continues to pepper Billy with questions and "heys", but Billy is slower to anger than he has ever been before. But so great is the annoyance that Feather causes that Billy's true colors come out in a split second, forcing a confrontation that surprised me. In the conclusion, Feather's true and final message is delivered to a stunned and scared Billy, and it's not what readers might be expecting at all. After it is done, Billy will see himself as he truly is, and will discover just what fate has in store for him, and believe me folks, it's not good. It's hard not to cheer as Billy gets his comeuppance, but the tale ends in a way that is both frightening and sad for all concerned.
This story held some things that I felt were predictable, and some things that weren't, though I do feel that the use of the southern slang was overused, causing me a bit of annoyance. It's not a novella that is wholly original, but parts of it seemed to be elevated into something that was a little more surprising than first hinted at. So, while it worked, and it's story was effective, there were some parts that just didn't quite hit the mark. It was a quick read though, and led me to search for more short novellas, which is something that I am grateful for. A mixed bag of a book.
---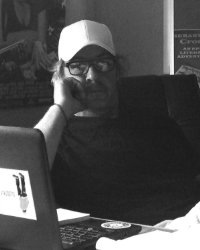 About the Author

Kevin Lynn Helmick, born 1963, Fort Madison IA, is the author of The Lost Creek Journal, selective poems and flash fiction, Clovis Point, a rural noir thriller, Sebastian Cross, a literary adventure novel, Heartland Gothic, a literary black comedy, and Driving Alone, a dark southern gothic romance novella. Growing up seven years younger than the youngest of four brothers, his views of the world were largely shaped by 60′s and 70′s pop culture, by Elvis Presley, James Bond, Andy Warhol, comic books and of course the music of The Beatles, Bob Dylan and The Doors.

Kevin has had several short stories published including "Allison" in Manarchy Magazine, "My Muse Plays Hard to Get" in Pulp Metal Magazine, and "No 7 Valentine" in Noir at the Bar II. All proceeds from Noir at the Bar II go to support independent bookseller Subterranean Books of St. Louis. All Kevin's books and full bio are available at Amazon Books.

Kevin keeps a blog with other short stories, commentaries and guest writers at The Write Room Cafe.
---
A warm thanks to TLC Book Tours for providing this book for me to read and review. Please continue to follow the tour by visiting these other blogs:



| | |
| --- | --- |
| Tuesday, January 29th: | Seaside Book Nook |
| Wednesday, January 30th: | Under My Apple Tree |
| Monday, February 4th: | Fiction Addict |
| Friday, February 8th: | Unabridged Chick |
| Monday, February 11th: | Pornokitsch – guest post |
| Tuesday, February 12th: | Crime Fiction Lover |
| Wednesday, February 13th: | Book Hooked Blog |
| Friday, February 15th: | Book Reviews by Elizabeth A. White |
| Monday, February 18th: | Raging Bibliomania |
| Wednesday, February 20th: | Bibliophiliac |
| Friday, February 22nd: | Luxury Reading |
| Monday, February 25th: | Jen's Book Thoughts |
| Date TBD: | House of Crime and Mystery |
---
This book was provided as a complimentary review copy.