William Talmadge is an orchardist of great talent. Living on his own among his trees, he has found peace in solitude. But one day, Talmadge espies two young girls at the edge of his land, and before he knows it, they have been in his pantry while he was tending his trees and have made off with his food. But these shy and strange girls don't run away; They come to live just at the edge of the land, where Talmadge leaves food for them each day and night. When he discovers the young girls are pregnant, Talmadge longs to give them shelter and respite. But these girls are from another life, a life of abuse and deprivation, and they never find themselves entering the domicile that Talmadge offers them. They prefer to live under the stars and eat the proffered food that Talmadge brings. When the girls, who are found to be sisters, go into labor, there are many complications and only one of the babies survives. Believing themselves free of their onerous past, the girls come to find life almost pleasant at Talmadge's orchard. But the past won't let them go so easily, and there are men coming who will change the course of their lives forever. On that day both sisters are lost, though one will take years to discover it. But the babe, Angeline, will be Talmadge's one consolation through the bitter years to come. Powerfully gripping and utterly transfixing,
The Orchardist
is a tale that will leave your soul blistered and your mind captivated by the elegant and powerful tale that Coplin spins up and throughout the trees of the orchard.
I finished this book last week, and still it lingers on my mind. Its simple power and raw story leave me wondering and hoping—sad and still clinging to the life of the orchardist who gave his everything to these girls, and then to Angeline. The robustness of the plot carried forth a tale of hideous abuse mingled with gentle compassion and filled me with tenderness for all of the characters, be they soft and gentle or hard and unforgiving. It was a story fraught with mind bending realities and unspoken grief, and it touched me to the core. There are not many books that draw out this level of emotion in me, and I will try to explain why.
Talmadge is damaged. As a young child, he was left orphaned with his young sister who soon went missing. He never forgot that loss and never stopped looking for her. This is why, when the girls appear, Talmadge comes to life, in a way. He wants to give to them all the things that his sister never received; he wants to love again. But these are badly damaged girls: confused, frightened and full of fire. They are difficult to love and even harder to manage. Talmadge comes to them with open hands and a heart full of kindness, but they can't see it. They will never be able to see the power of the orchardist who holds their lives in his hands.
As the girls come closer and closer to delivering their babies, they wander away, trying to give birth by themselves, only to be rescued and brought back to Talmadge, where tragedy strikes. Angeline is the only surviving baby, and loved like a daughter by Talmadge. In his love there is a gentle protectiveness, a proclivity to spoil, and a heart full of wonder at the child that both girls neglect. It's a ruinous day when the girls discover their hunter has never given up on them, and finds them in the orchard with Talmadge. He does what he can, but fate has its plans and the winds of change are in the air. Heavy with sorrow, he cannot save them, and they find themselves far away from the loving protectiveness of Talmadge, that one will come to crave later in her life.
As Angeline grows, she becomes a constant helpmate to her "father," but as he ages, he sees things that he should never see, for one of the girls has been badly treated and seems to exist only to torment her tormenter. It's the steady hand and quiet ways of Talmadge that save Angeline, that set her above the fate of her mother, that give her the courage to look into her past and come away unscathed. Although Talmadge tries to do the same, guilt and shame mire him in their traps and he finds himself in two frames of mind: one of sorrow for the girls and one of hope for Angeline.
This book had a power like no other. It was vast and limitless yet quiet and desolate. It was a story that bent like the branches of the trees into twisted and gnarled canopies, graced with beautiful fruit that became it like jewels in a crown. This was by far the best book I've read in years, and though it made me cry, it also made me feel peace as the last page was turned. Very highly recommended.
---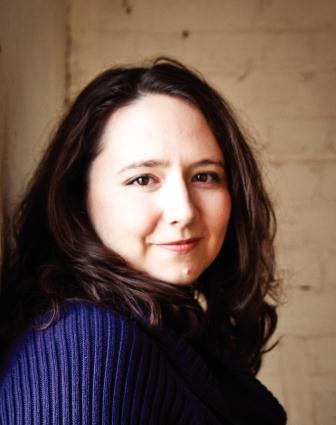 About the Author

Amanda Coplin was born in Wenatchee, Washington. She received her BA from the University of Oregon and MFA from the University of Minnesota. A recipient of residencies from the Fine Arts Work Center in Provincetown, Massachusetts, and the Omi International Arts Center at Ledig House in Ghent, New York, she lives in Portland, Oregon.

Find out more at Amanda's website and connect with her on Facebook
---
A warm thanks to TLC Book Tours for providing this book for me to read and review. Please continue to follow the tour by visiting these other blogs:



| | |
| --- | --- |
| Tuesday, March 5th: | Book Club Classics! |
| Thursday, March 7th: | Book Snob |
| Friday, March 8th: | Unabridged Chick |
| Tuesday, March 12th: | A Bookish Affair |
| Thursday, March 14th: | Cerebral Girl in a Redneck World |
| Friday, March 15th: | 5 Minutes For Books |
| Saturday, March 16th: | Unabridged Chick |
| Monday, March 18th: | The Betty and Boo Chronicles |
| Tuesday, March 19th: | Tiffany's Bookshelf |
| Wednesday, March 20th: | Raging Bibliomania |
| Thursday, March 21st: | Becca's Byline |
| Monday, March 25th: | Amused By Books |
| Tuesday, March 26th: | A Library of My Own |
| Wednesday, March 27th: | Silver's Reviews |
| Thursday, March 28th: | Between the Covers |
| Monday, April 1st: | Lit and Life |
| Tuesday, April 2nd: | Paperback Princess |
| TBD: | The Written World |
| TBD: | missris |
---
This book was provided as a complimentary review copy.