When Sophie Shepard gets a call from a strange man asking her to visit him on his deathbed, she is at first confused and then reluctant. Discovering him already gone to the great beyond when she arrives only leaves her with more confusion. But the ultimate shocker comes when this stranger bequests his family's home to her, leaving Sophie as the object of much gossip and speculation in the community. At first, Sophie thinks she's finally found some clues to her adoption which happened almost 30 years ago, but that avenue quickly disappears and she's left with more questions than answers. The newcomer in town does raise many eyebrows, and none more important than Dr. Drew McCarren, a handsome young scion of the town's most prominent family. Before Drew and Sophie can explore any romantic feelings they may or may not have for each other, danger comes and leaves its calling card. First a man is murdered in front of the bed and breakfast where Sophie is staying, and it only gets stranger from there. What is the secret that Sophie's benefactor wanted to relate to her, and why is it getting people maimed and killed? In this women's fiction novel with a great dose of mystery, Sophie discovers the truth that she so desperately needs to know, despite the fact that reopening old wounds will take down many of the town's biggest players and ruin the lives of those who have kept silent for so long.
This was a book that was easy to slip into and just as easy to like. Sophie, a kindergarten teacher with chutzpah, was a formidable character, and the whole book, while being serious, had a great comedic flair that I really enjoyed. The mystery was very complex and layered, and there was no way to figure it out easily. When the ball finally dropped on what was going on in this sleepy little town, I was stunned and stymied. It was a very satisfying and rich read that kept me wondering and speculating the whole way through.
One of the things that impressed me most about this book was the fact that the characters were very three dimensional and most of them were likeable. Even the evil characters didn't get short shrift in this department, and there was more than one side to them than originally seen. It also seems like McComas has a really well developed sense of comic timing, and at times I must have looked silly grinning at the pages of this enthralling and at times pulse racing mystery.There were enough thrills and dead ends to keep the reader guessing and then second guessing as things played out in a very different direction. The town's characters helped this book along in that they were so colorful that you cared about what happened to them, and they were so likeable that you wanted a good outcome for all of them.
The love story was also a really well written component of this story, with things being innocent enough for a YA audience to appreciate but still nuanced and deep enough to satisfy an adult audience. The relationship between Drew and Sophie was tender and protective, but also very romantically comedic in a win you over way, instead of a "Three's Company" way. Sophie was a beautiful and genuinely nice girl, but she didn't flaunt her beauty or throw temper tantrums, and Drew's playful and gentle side really came out when he was with her. Both of them fit together like hand in glove to form a team that was virtually unstoppable.
I thought this was a really engaging read from top to bottom, and with its ability to make me laugh and its stellar plot, it's a book that I would recommend and would appeal to a wide audience. I had fun with it and it was a great escapist read, which is something that all of us need now and then. Recommended!
---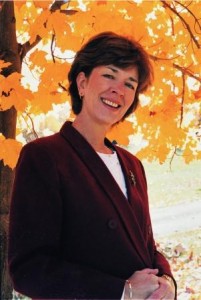 About the Author

Mary Kay McComas started her writing career twenty-five years ago. To date she's written twenty-one short contemporary romances and five novellas; Something About Sophie is her third novel. She was born in Spokane, Washington, and now lives in a small town in the beautiful Shenandoah Valley of Virginia with her husband, three dogs, a cat, and her four children nearby.

Find out more about Mary Kay at her website and connect with her on Facebook.
---
A warm thanks to TLC Book Tours for providing this book for me to read and review. Please continue to follow the tour by visiting these other blogs:



| | |
| --- | --- |
| Tuesday, March 26th: | Kritters Ramblings |
| Wednesday, March 27th: | Book of Secrets |
| Thursday, March 28th: | Under My Apple Tree |
| Monday, April 1st: | Mom in Love With Fiction |
| Tuesday, April 2nd: | 5 Minutes for Books |
| Wednesday, April 3rd: | A Book Geek |
| Thursday, April 4th: | she treads softly |
| Monday, April 8th: | Raging Bibliomania |
| Tuesday, April 9th: | Tiffany's Bookshelf |
| Wednesday, April 10th: | Speaking of Books |
| Thursday, April 11th: | I'm Booking It |
---
This book was provided as a complimentary review copy.